Seychelles, Jan.29, 2020 – Leading Asian cryptocurrency trading platform MXC Exchange (www.mxc.com) is getting a lot of attention from traders lately. The native MX token notes a solid price performance of +56% in the past seven days. This price momentum is a result of the company's efforts to date. 
MX Token Is On The Rise
It is common for native exchange tokens to appreciate over time. Every token offers benefits to traders of that platform but can also serve a theoretical value. For MXC Exchange, the native MX token notes strong price appreciation over the past month. Per CoinGecko, the MX value has risen by 83.2% in the past 30 days and 56.7% in the past week.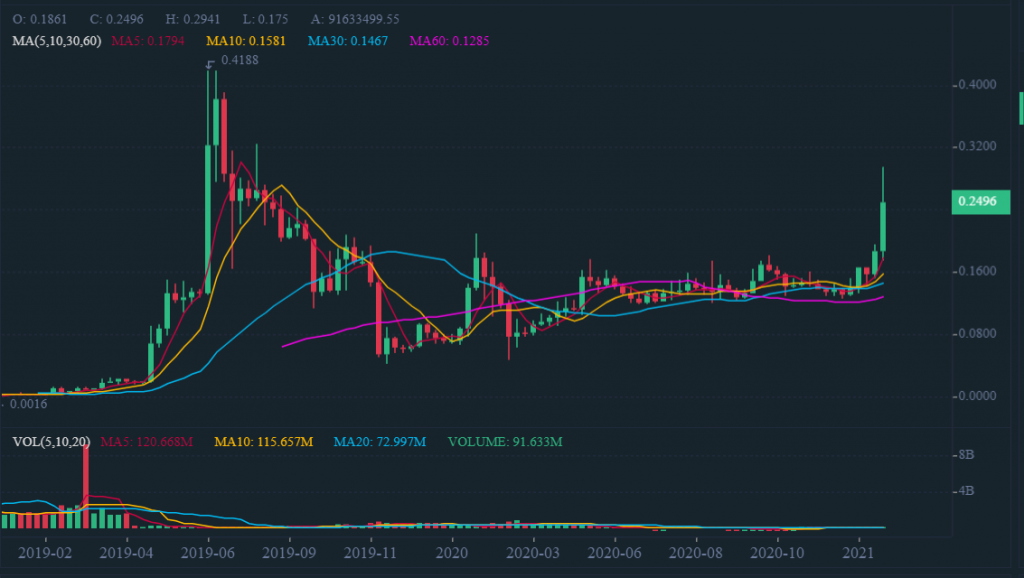 MX/USDT Trading – Source: MXC Exchange
Contrary to other cryptocurrencies and Ethereum-based tokens, MX's value has nothing to do with the performance of Bitcoin or Ethereum. Instead, its value appreciation is a direct result of the recent developments taking place behind the scenes. The company's outspoken focus on early access to potential DeFi unicorn tokens has not gone by unnoticed. 
Furthermore, MXC Exchange is quickly rising the ranks where its ETF trading is concerned. It becomes easier for traders and investors to gain exposure to different markets by providing exposure to leveraged derivatives for a growing collection of crypto-assets. Additionally, there are many trading contests, new perpetual contracts, and more tokens making their way to the exchange. 
MXC Exchange Director of Operations Alex Zha adds:
"We maintain a proactive approach to cryptocurrency trading. Our team works around the clock to list appealing projects and expand the set of perpetual contracts at users' disposal. We will continue to push for global growth in 2021 through key partnerships, further expanding the appeal of MX Token." 
For MX Token holders, it is crucial to note there is a monthly Buy-back & Burn. Using 100% of the profit from trading fees, our team buys back MX tokens from the secondary market to reduce its supply. In December, over 8.5 million MX was burnt, reducing the circulating pool to 137,229,726.71 MX. 
In comparison, MXC Exchange removed 5.875 million MX from circulation in November of 2020. The growing trading volume of MXC Exchange leads to more fees being generated. All of those fees help to reduce the circulating MX supply even further. At this rate, it will be a matter of months until less than 100 million MX remain on the market. 
By lowering the barriers to entering the cryptocurrency space, MXC Exchange becomes a crucial player in the broader industry. Its native MX token has shown ample price potential already. MXC Exchange remains committed to bringing value to its users. 

More about MXC:
Established in April 2018, MXC Exchange is one of the world's leading digital-asset trading platforms which offers users one-stop services including spot, margin, leveraged ETF, derivatives trading and staking services. The core members of the team come from world-class enterprises and financial companies, who have rich experience in blockchain and financial industries. We offer the most comprehensive marketplace where global crypto traders, miners and institutional investors come to manage crypto assets, enhance investment opportunities and hedge risks, and formulate their strategies to maximize gains and mitigate risks.
Website: https://www.mxc.com/
Twitter: https://twitter.com/MXC_Exchange
Facebook: https://www.facebook.com/mxcexchangeofficial/
Linkedin: https://www.linkedin.com/company/mxc-exchange/mycompany/
The post MX Token Price Surge Validates MXC Exchange's Vision For Crypto Trading appeared first on NullTX.
Source: null tx