A multi-chain decentralized structured finance protocol is revolutionizing the DeFi space by introducing innovative robo-advisory services
A multi-chain decentralized structured finance protocol, Skyrim is all set to create an evolution in the DeFi landscape by designing an automated robo-advisory solution for fixed yield and leveraged yield decentralized financial primitives. 
Skyrim was conceived by the founders of the company with a vision to simplify DeFi for investors with different risk profiles to make it easier to minimize risks and maximize returns, thus allowing them to manage their investments efficiently. 
The booming DeFi industry has attracted both professional and novice trades, providing them opportunities to seamlessly buy and sell cryptocurrencies and innovative DeFi products. The DeFi industry has also opened avenues to interact with borrowing and lending marketplaces just like the traditional financial landscape. These DeFi protocols allow participants to earn lucrative yields for locking assets in the liquidity pools through yield farming or liquidity mining. 
Skyrim Finance aggregates various DeFi protocols from on-chain DeFi markets with the real world assets by creating a Skyrim Finance Yield pool that applies multiple strategies to maximize returns for the end users. 
Some of the on-chain DeFi market protocols that will be employed to curate optimal strategy to maximize yields include Compound, Acala, Uniswap, AAVE Pancakeswap, Equilibrium, Stafi, Alpha.  Skyrim aims to bridge the gap between Fixed Yield APY crypto holders and high leverage yield farmers, driving mainstream adoption for end users.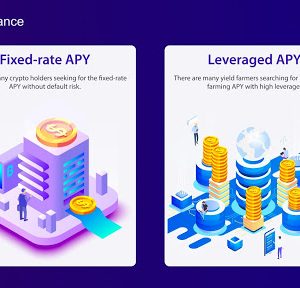 Automated Solutions to drive the passive income of users for mainstream adoption 
With the increase in number of users exploring sources of passive income through liquidity mining and staking, the developers of Skyrim Finance built a multi-chain version offering to provide the users the best of both worlds through Skyrim Finance Yield pool. 
Built on Ethereum, Polkadot and Binance Smart Chain, Skyrim aims to drive utility by fuelling multi-chain operability. It aims to address issues relating to latency, high transaction costs and low throughput. From a user perspective, Skyrim's multi-chain solution eliminates the limitations that users have in terms of experimenting different protocols and addresses issues relating to lack of technical knowledge. Through a singular interface users will be able to experience complex farming strategies with the help of robo-advisory services to optimize yield. 
The project currently raised private funding of $2.1 Million from renowned blockchain and crypto investors. The vision outlined by Skyrim Finance attracted massive attention from prominent investors including AU21 Capital, Spark Digital Capital, Exnet Capital, Blocksync Ventures, MANTRADAO, X21, ZBS Capital, Kyros Ventures, VBC Ventures, CryptoJ, Illusionist Group, Wings Ventures, GFS Ventures, Tenzor Capital, Titans Ventures, Poolz. This significant milestone confirms that Skyrim's mission has a greater merit in the DeFi space. 
Driving the Future of DeFi with significant milestones
Currently, Skyrim Finance has officially launched its website and whitepaper, it is rapidly moving towards spearheading the initial milestones of the quarter 2. 
The ETH & BSC will be supported in the initial days followed by the V2 version integrated into the Polkadot ecosystem employing the Substrate framework. The future course of action involves interoperability through NFTs wherein users can employ their ERC-71 tokens representing deposits and bonds. 
The deployment of the contracts on the Polkadot will take place later this year. Moreover the V2.2 Roadmap release will be announced in the same quarter. The team has also set strong social engagement communities to keep the community updated about latest developments. 
Skyrim was built to simplify DeFi through innovative utility-based solutions. Its primary objective is to make DeFi accessible by attracting retail to drive the DeFi to its maximum potential. This project is a gateway for novice users to experience the world of DeFi seamlessly and maximize returns while traversing through their crypto journey. 
Connect with us: 
Telegram: https://t.me/skyrimfinance
Telegram Ann: https://t.me/Skyrim_Finance_Announcements
Twitter: https://twitter.com/SkyrimFinance
Website: https://skyrim.finance/
The post Skyrim // The First Multi-Chain Structured Finance Protocol brings Robo-Advisory Services to DeFi Space appeared first on NullTX.
Source: null tx